If you're craving a consciousness-expanding twist to your next road trip, put Meow Wolf on your travel wishlist. The ambitiously creative production company began as an alternative art collective in Santa Fe, New Mexico, where the first permanent location opened in 2016 in a former bowling alley. In 2021, two additional exhibits opened in Las Vegas, Nevada, and Denver, Colorado. A fourth location, Meow Wolf Grapevine, is coming to Texas in 2023.
Meow Wolf is an interactive experience unlike any other art museum you've visited, and the three locations each have their own unique theme and storyline. Visitors enter through a seemingly normal real-world setting—a family home, a grocery store, or a transit station—and discover portals and secret passageways to alternate dimensions. 
A Meow Wolf visit reawakens your childhood sense of curiosity and exploration; the exhibits encourage you to touch and interact with the art and look behind every door, and they're designed with all ages in mind. Each exhibit was created by local multimedia artists, incorporating elements of their cities and surrounding landscapes into the space.
Here's an itinerary for visiting all three Meow Wolf destinations—plus plenty of otherworldly, natural landmarks along the way.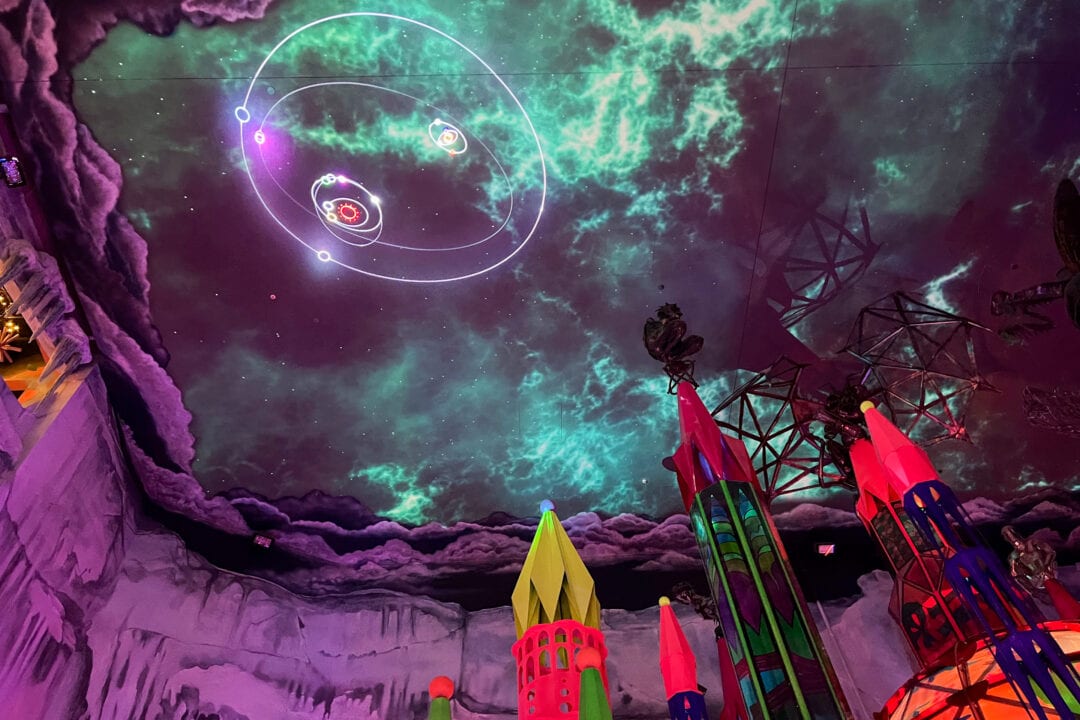 1. Convergence Station
The newest and biggest Meow Wolf exhibit, located in Denver, sprawls throughout a 90,000-square-foot building and features more than 70 immersive displays. Convergence Station's theme is multiversal travel between four alien worlds, inspired by the building's actual location near two major freeway overpasses. To follow the interactive storyline, pick up a QPASS in the lobby; this allows you to scan and store "mems," pieces of collective memories, from displays called "Convergence Exchanges" found throughout the space. Diving into the storyline adds another dimension to an already mind-expanding experience.
---
2. Mount Sanitas
In the spirit of exploration, check out what Boulder, Colorado, looks like from the top of a mountain at this favorite hiking spot for locals. There are three options from the Mount Sanitas trailhead, with varying difficulty levels. The 3.1-mile loop trail is rated moderate to difficult (don't forget to bring water and wear sunscreen), but the panoramic ridgetop view of Boulder is a worthy reward.
---
3. Rio Grande Gorge Bridge
Just outside of Taos, New Mexico, the Rio Grande Gorge Bridge, also known as the "High Bridge," straddles a 1,300-foot-wide river gorge. Sidewalks on both sides of the road allow pedestrians to stroll across and peer down at the Rio Grande riverbed roughly 600 feet below. The incredible view of the earth cracked in half feels like something out of a fantasy novel.
---
4. House of Eternal Return
New Mexico's House of Eternal Return is Meow Wolf's flagship location, made possible by a generous pledge from Santa Fe resident and Game of Thrones creator George R.R. Martin, who knows a thing or two about magical worldbuilding. The exhibit makes every inch of the 20,0000-square-foot space into something explorable and fantastical. Multiple hidden passageways lead to a fantasy world where you may encounter a giant treehouse, a laser music room, or a secret arcade. House of Eternal Return may be the smallest of the three Meow Wolf exhibits, but it's a strong fan favorite and a must-see to get a sense of the collective's unique vision and origin story.
Related Enter the world of Meow Wolf—a multidimensional, artsy playground, where everything is not what it seems
---
5. Meteor Crater
Head deeper into the desert for a glimpse of Meteor Crater Natural Landmark, one of the world's best-preserved meteorite impact sites. The massive crater is 3,900 feet in diameter, about 560 feet deep, and will have you wondering what it must have been like to witness this incredible cosmic event roughly 50,000 years ago.
---
6. Grand Canyon National Park
What better example of an inverted world exists than the Grand Canyon? This beloved and iconic national park has served as inspiration and subject matter for countless works of art. Take a hike on the Bright Angel Trail to soak in the stunning views below the rim. The view and the climate change with each trail leg deeper into the canyon, making for some real-world multiversal travel.
Related Planning a road trip to Grand Canyon National Park
---
7. Grand Canyon Caverns
Go even deeper and take an elevator ride 200 feet below ground level into the Grand Canyon Caverns, the largest dry canyon system in the country. The rocky underground passages were designated as a fallout shelter during the Cuban Missile Crisis, and you can still see the cache of supplies stored in one of the larger chambers. 
The guided tour is a popular Route 66 attraction, and some unexpected and quirky amenities have been added, including a subterranean bar and a hotel suite where you can actually spend the night in the heart of the caverns. (Reservations for both must be made in advance.)
---
8. Omega Mart
Omega Mart is the perfect culmination of Meow Wolf and Las Vegas—a psychedelic grocery store out of a fever dream where nearly everything on the shelves is available for purchase. The grocery products are works of art themselves, featuring that unmistakable Meow Wolf brand of whimsy and weird. Multiple passageways lead out of the grocery storefront to the neon multiverse beyond, and the exhibit includes several multi-story slides. Pick up an RFID card in the grocery store and ask questions to any DramCorp employee you encounter to uncover the mystery of the Dram family's deep dark secrets. 
Related Omega Mart brings a strange, multi-sensory experience to a Las Vegas 'grocery store'
This Meow Wolf location also features a hidden bar with themed drinks. After traveling from the Mile-High City to 200 feet below ground, through iconic national parks, and among mind-bending artwork, you've earned a cocktail.